Author of the article:
Scott Hannah
Reviewing how you've managed money for the past six months can do wonders for staying on track with goals. Here are tips for an effective financial checkup.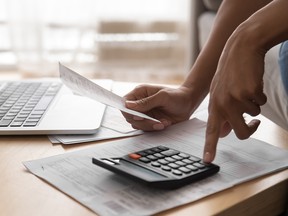 A mid-year financial review is a time to checkup on yourself and how you're doing with your finances.
Q: When my girlfriend and I got our tax refunds, we put them in savings because one of our goals this year was to find the money to take our first post-COVID trip. However, another one of our goals was to pay down our credit cards, so that we could start saving for our wedding. Needless to say, with the high cost of living, we haven't made a huge dent in our credit-card balances. That's super frustrating because now we're halfway through the year and no better off than when it started.
What can we do?
A: If the first six months of 2022 are any indication of what's to come, our finances could be in for a wild ride. Many who made New Year's resolutions have likely revised them several times or abandoned them altogether. However, in the words of William Arthur Ward, "The pessimist complains about the wind; the optimist expects it to change; the realist adjusts the sails."
July is a great time to perform a mid-year financial review and adjust any sails that need adjusting. It's an opportunity to review where you stand in relation to your goals and make a plan for the next six months. A revised plan is better than no plan, so in that light, here are tips to get you started:

What is a mid-year financial review or checkup?
A mid-year financial review is a time to check up on yourself and how you're doing with your finances. You might want to compare your current standings to the position you were in six or 12 months ago, or to where you're at in relation to your goals.
Article content
A financial review will vary a little from one person to the next based on someone's circumstances. However, a checkup should always include a thorough review of all of your income, expenses and bills, your savings and investments, and your budget. It may also include a review of related financial matters, e.g. retirement plans, insurance policies, and taxes.

Is there anything to zero-in on?
With the impact of inflation on our post-pandemic finances, it's important to zero-in on anything that matters to our goals. If reigning in your spending is important, do a deep dive into all of your expenses.
Track where you spend your money
and if you are living within your means. If you are using credit to supplement your paycheques, this will not be a sustainable strategy as interest rates rise. Make informed choices and changes once you know your spending habits.
Article content
If decreasing your debt load is important to you, look carefully at your
debt management strategies
. Ask yourself: Are your balances increasing or decreasing? Are you prioritizing paying off your most expensive debt or the account with the highest balance owing? Are you using your line of credit as a lifeline and need a consolidation loan instead? Take steps to
align your actions with your goals
.
During the pandemic, many Canadians realized how important an emergency savings fund is. If you identified your need for one, consider what you are doing to set money aside for a rainy day. If you're already saving to cover unexpected bills and expenses, reflect on how to achieve your goals more quickly. Through your online banking system, set up automatic transfers on payday and consider adding at least part of any unexpected windfalls you receive as well. Stashing the cash out-of-sight and out-of-mind will help keep it safe from yourself.
What not to forget
If you have any variable rate credit products, be sure to check in with your lender to see where you stand and what you should expect. Home equity lines of credit (HELOCs) are often based on interest only payments, but all credit line payments are affected by rate changes. With the expectation of a significant mid-July interest rate increase it would be wise to budget accordingly now. The same can be said about a variable rate mortgage. If your payments were deliberately lowered, they could go up as well.
In terms of a fixed-rate mortgage, keep an eye on your maturity date. That is when your payments could increase. If you will need to renew your mortgage in the next 12 to 18 months, strategize with your lender to find out when a renewal would be most advantageous to you.
Article content
Also keep an eye out for any missing money. If you have extended health benefits at work, submit your receipts and get the reimbursements you qualify for. The same can be said of your taxes. If you haven't filed yet and are likely due a refund, get that attended to sooner than later. If you are holding onto purchases that you meant to return to a store or ship back, get that taken care of as well. Don't leave money on the table if your employer offers an RRSP matching benefit. Review your budget to see how much you can contribute to your child's RESP to take maximum advantage of the government grant.
July vs. January — why now?
If you're being honest with yourself, looking at your finances right after the winter and holiday spending season can be misery-inducing. The days can be long and dark, punctuated by last minute deals for sun-soaked destinations and emails letting us know our credit card minimum payments are due. The slower pace of July versus January tends to be a great time to review how we manage our money and where we stand. Our income taxes are filed. We've got six months to plan how we'll afford to pay for the happiest — and often costliest — time of the year. And if your budget is maxed, July is a great time to suggest alternative holiday gift giving to your friends and family.

The bottom line on an effective mid-year financial check up
A mid-year financial review is often touted as a checkup on your investments. While monitoring your savings and investments should be part of a financial review, given how drastically living costs have changed, it's important to check up on other areas of your finances as well. How you spend your discretionary funds, allocate your budget, and manage all of your bills, expenses, and debts — get help if creating a new plan seems like a daunting task. A
non-profit credit counsellor in your area
would be happy to help.

Scott Hannah is president of the Credit Counselling Society, a non-profit organization. For more information about managing your money or debt, contact Scott by email, check nomoredebts.org or call 1-888-527-8999.