Source: https://tinyurl.com/yynb5c2z
Written by: By Bryan Lufkin and Rachel Mishael
It's been nearly a year since the novel coronavirus began spreading around the world. While we've learned a lot about Covid-19 since January – and how to live and work in lockdown – there's still much we don't know about how the pandemic will change our societies.
That's why we've rolled out
Unknown Questions
, our series grappling with these seismic changes by asking leaders and experts across the globe for their input. But today, we've turned to you,
our LinkedIn readers
,
for your views on the biggest unknowns about the post-pandemic future.
The future of work
"My biggest question: Why can't we work from home forever?" asks
Kathy L
from Virginia. With many workers asking the same thing, several big companies have already answered: "Why not?" Just this month, tech giant Microsoft
announced
that it would offer staff the option to work from home permanently, just as other Silicon Valley mainstays Facebook and Twitter,
as well as
Japan's Fujitsu, did earlier this year.
Shun-ping Chiu
in California points out that while remote work was technically possible before the pandemic, what Covid-19 has brought "is a mindset difference that allows people to view remote work as a new normal rather than an occasional opportunity". And data backs this up: In April, the Office of National Statistics
reported
that 46% of employed Brits were working from home; in May, 42% of the US workforce
were doing the same
.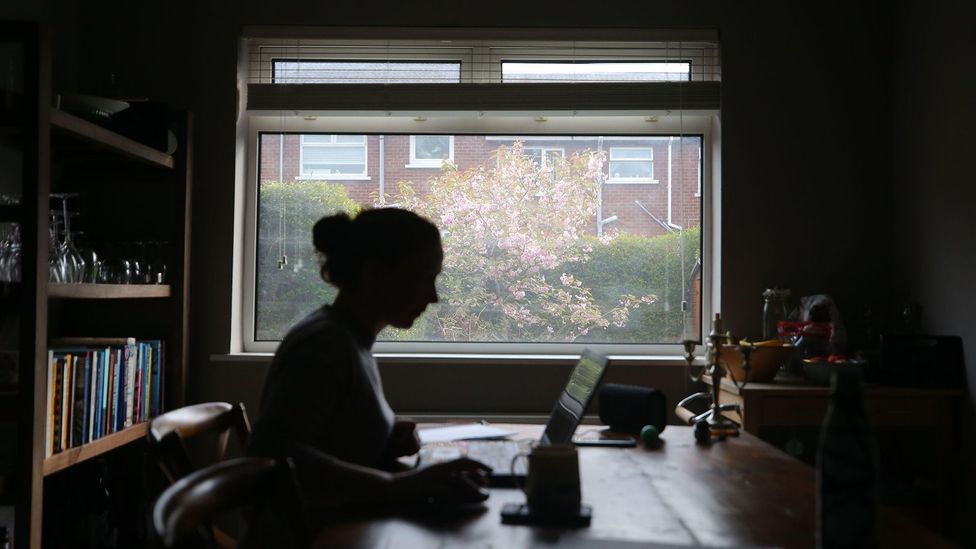 The pandemic has had profound impacts on how we work, and many of us feel that some of the changes are irreversible
"Most of the client meetings, kick-offs, project meetings could easily and effectively be conducted via tools like Teams, WebEx, Zoom and other virtual meeting solutions," says
Gagan Lamba
in San Francisco. "Soon enough corporations will recognise the benefit of people working from home, which would result in savings on lease cost, electric bills, shipment cost, administrative cost."
But some fear losing vital communication skills, or wonder whether they will be as effective or successful professionally as they would be at an office. "I fear we will forget how to communicate, which in my field as a salesperson makes me very nervous," says
Ben Brown
from England. "Face-to-face interaction is vital in order to win new business and build a relationship with the customer where they can trust you."
On the flip side, telework could potentially open up more opportunities. "Everyone who has talent and skills will learn that they can market their talent to the whole world," says
Juliana Carroll
in New York. "Everyone who takes their everyday skills for granted will realise that someone will pay for that skill and/or for their time. Every responsible college student will realise that someone will pay for their time to help with children's homework. Every bilingual person will realise that someone will pay for their time to practice another language… It's just a matter of finding the right virtual marketplace."
But others worry about possible drawbacks to long-term remote working. "On the flip side, it opens up unanswered questions: What is my career growth path? How do I collaborate on new ideas? How do I build a trusted relationship with a customer? How do I engage my team? Is this fair to people with small kids? What are the implications on taxes?" asks
Pankaj Goyal
, also in San Francisco.
And where does all this leave office buildings? In May, office and retail landlord Land Securities
reported
that a mere 10% of its office space in the UK was in use. Meanwhile, real estate services firm Cushman & Wakefield
forecasts
that Covid's hit on the office real estate market will be worse than the global financial crisis, with a net loss of 95 million square feet of real estate in the next year – and that the market might not get back to pre-Covid levels until 2025.
"How is commercial real estate adapting to the post-Covid world?" asks
Lisa Hoffman
from Virginia. "Is there a shift away from typical tenants to a different tenant or a new space use? How will these changes impact the urban environment, especially downtown hubs that rely on dense office real estate?"
Plus, with the meteoric rise of telework, some are wondering
if people will soon be paid based on where they live
. One survey this summer of high earners in New York City revealed that
44% of them
had thought of moving in the last four months to telework somewhere cheaper to live.
Eric Luna
in New York says: "People would do the exact same job but be paid differently because of their home or residential location. Some say this will happen. I personally believe something like it will. Is this avoidable or inevitable?"
Of course, some offices will stay put in their current spot – after all, research in July from Gensler, an architecture firm in San Francisco,
found
that only 12% of workers want to work from home permanently. "I do not believe that we will find a one-size-fits-all solution," says
Thibault Pelloux-Gervais
in California. "I am still convinced that in-person activity is essential to build team spirit, which drives collaboration and innovation. A hybrid model where you would spend some time working from home and some time from an office could become a very common model."
As the way we work has shifted, so too have the ways we navigate family life and how our children learn

Childcare, coping and inequality

Yet if hybrid does become more common and employers give workers more flexibility, what does it mean for parents whose children are at home doing distance learning? After all, in the US, a whopping 93% of households with school-age children
reported
having to accommodate distance learning at home during the pandemic. Globally,
1.2 billion children
are out of the classroom.
Tracey Stewart
from Seattle asks: "Will working from home remain a viable solution? Will employers note increases in productivity and cost savings, and offer real flexibility for working parents? Will governments and corporations, post-Covid, offer childcare solutions like generous subsidies or onsite solutions in order to maximise workforce engagement? Many parents are simultaneously loving the flexibility of working from home, but also buckling under the burden of full-time teaching or parenting."
In this sphere, like many others in the pandemic, inequalities have been laid bare; while 95% of students in countries like Switzerland and Austria have a computer to do schoolwork,
only 34% in Indonesia do
. "From their academic success to their social skills and mental health, the pandemic is a crisis for today's children – and the fallout may follow them for the rest of their lives," says
Isabel Santos
in Portugal. "When today's children and adolescents grow up, will they see themselves as a 'lost generation', whose lives will forever fall in the shadow of a global pandemic?"
When it comes to Covid-19's emotional impact, readers aren't just worried about
Zoom fatigue
or
WiFi blips during video calls
. Furloughs, redundancies and slashed pay all threaten livelihoods, with a major impact on mental health.
Julie Derrick
in Cardiff, Wales, says: "My biggest question (and concern) is how on Earth are we going to cope with the surge in mental health cases, in particular OCD, post-Covid – when mental health resources were already way over-stretched (and underfunded) even pre-Covid." In the UK, nearly 20% of adults have been experiencing some form of depression during the pandemic – a figure that had
doubled
since before the outbreak, according to the Office for National Statistics. "I am curious about the post-traumatic effects, how it affects personal relationships," agrees
Marcell Déri
in Hungary.
And finally, with inequalities – whether socio-economic or racial -
more visible than ever
, one question on readers' minds is whether our societies can change for the better as a result. "Under duress, we tend to regress," says
Dennis Linehan
from Flagstaff, Arizona. "So, when we emerge from the pandemic, is humankind motivated by a common goodwill and generosity toward one another or are we generally more pessimistic and revert to a pronounced tribalism?"
Perhaps the most concrete certainty for the future is uncertainty. "I'm objectively curious to see where the waves settle and what becomes a new normal," says
Marek Matthew Getter
in New York City "What interests me is what normal will look like. There's no going back; we cannot unlearn the lessons of Covid."